Looking For Deals On National Pizza Day? It's As Easy As Pie! Is there anything more comforting than a crispy crust covered with savory sauce and lots of melted cheese? It's hard to think of a food we love more than pizza, and for that reason we're delighted to share these National Pizza Day deals on tap for Friday, February 9 around the United States.
Anthony's Coal Fired Pizza: Anthony's Coal Fired Pizza, a chain with locations in eight states, is giving away a free slice of cake to 5,0000 customers to celebrate a partnership with Door Dash, Restaurant News reports. This deal began February 7 and runs through February 13.
HJ2Day

@hj2_day

Anthony's Coal Fired Pizza and Door Dash are Giving Away Decadent Chocolate Cake http://www.restaurantnews.com/anthonys-coal-fired-pizza-and-door-dash-are-giving-away-decadent-chocolate-cake-020518/ …
Baskin-Robbins: For those who broadly define pizza, Baskin-Robbins is giving out free samples of its new Sweetheart Polar Pizza Ice Cream Treat from 3 to 7 p.m. on February 9. The "pizza" is made with a heart-shaped Double-Fudge Brownie crust and topped with Love Potion #31 Ice Cream, fudge brownie pieces, marshmallow topping and festive heart sprinkles.
Blaze Fast Fire'd Pizza: Grab your phone if you are hungry and use the free Blaze mobile app to get a code that's redeemable for a buy-one-get-one-free pizza deal through February 13.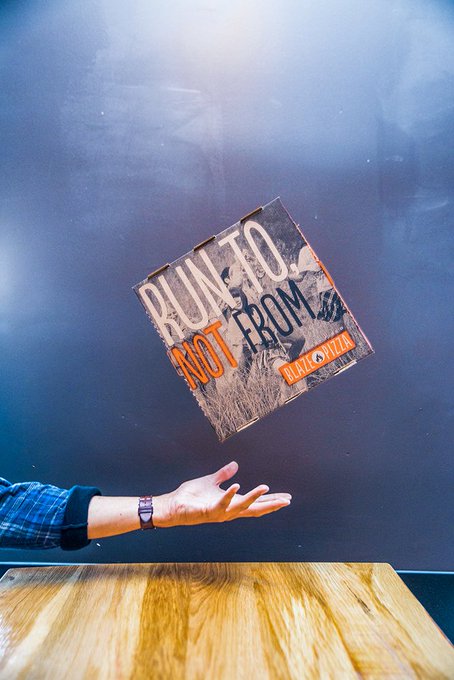 Blaze Pizza

✔

@BlazePizza

Is it worth it, then we'll work it. We put our dough down, flip it, and reverse it! Tag a friend who's #PuttinInWork too, and then enjoy this BOGO with them >> http://blazepizza.com/work
California Pizza Kitchen: If you're trying to stick to a New Year's resolution to cut down on carbs, you can check out CPK's new cauliflower crust at no additional charge on National Pizza Day. (After February 9 the crust will cost an extra $2.50).
Chuck E. Cheese's: Our general rule is more pizza is always better. Here, buy any large pizza and get a free large Thin & Crispy Pepperoni Pizza.
Domino's: This chain has a cool mix and match special that allows you to choose two menu items for $5.99 each. Those items include everything from a medium two-topping pizza to an eight-piece chicken wing meal, and so much more. You can also earn points toward a free pizza with the Piece of the Pie Rewards program.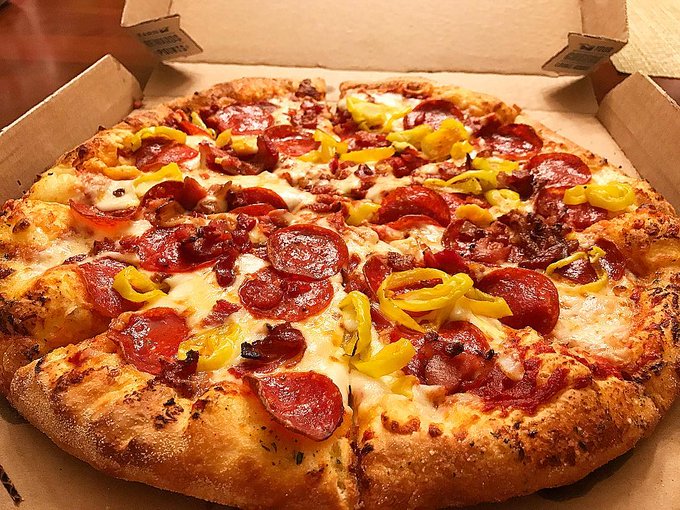 Domino's Pizza

✔

@dominos

Is this not the most beautiful thing you've ever seen?!
Giordano's: Use the code "deepdish" to score $5 off orders of $25 or more at participating locations.
Hungry Howie's: This chain is offering a bunch of combo deals, including two medium one-topping pizzas along with Howie Bread for $15 (see the list of deals here).
Little Caesars: You'll want to stock up here: Get extra pepperoni and cheese for $1 when you upgradeto Little Caesars "EXTRA MOST BESTEST" at participating stores.
Daniel Balderas

@_danny_rayray

Just gonna leave this here. @littlecaesars #extramostbestest
Papa John's Pizza: Save 40 percent off an order online with coupon code "40PIZZA"
Pilot Flying J: Score a free slice of pizza now through February 10. Just download the myPilot app and look for the digital coupon for a free slice of PJ Fresh Pizza. It is redeemable at more than 250 Pilot and Flying J Travel Centers.
Pizza Hut: Get two medium two-topping pizzas for $5.99, plus Hut Rewards members get 30 percent off the menu price of pizzas.
Pizza Patrón: This Latin-inspired pizza franchise based out of San Antonio with more than 90 locations across the U.S. is celebrating National Pizza Day with this special offer: any large specialty pizza for just $5.99! That means pizza lovers everywhere can get a little spicy (and a little saucy) with one-of-a-kind pies like Pizza Patrón's Patrona and Choriqueso, loaded with chorizo sausage and fresh mozzarella —and many more specialty pizzas. Jump the line by ordering online here.
Round Table Pizza: Get a free cheese or pepperoni personal pizza with the purchase of a Pepsi fountain drink at one of the more than 440 Round Table Pizza locations from 2 to 5 p.m. on February 9.
&Pizza: Last year the pizza shop tweeted "Happy National Pizza Day. // RT for a chance to win a dinner for two. Winner announced at 9pm." Not saying that will happen again, but worth following just in case! And if you happen to be in D.C., you can take part in their local promotion: Follow the restaurant on Instagram and post a photo, tagging @andpizza in your post, for a chance to get a special delivery of pizza.
Whole Foods Market: Large "Take & Bake" pizzas will be on sale for $9.99 Friday at participating stores.

Chad & Leslye
Want to know more about Chad and Leslye? Get their official bio, social pages & articles on Magic 107.7 - Orlando!
Read more