Amazon Founder & Wife Divorcing Amid Cheating Rumors
Jeff Bezos announced his divorce the same day the National Enquirer published an 11-page investigation into the billionaire's four-month long fling with a married woman.
Correlation is not causation, but it seems the tabloid forced his hand.
The Enquirer has photographic proof of Bezos getting cozy with former TV news anchor Lauren Sanchez, who is married to a Hollywood talent agent. They claim to have copies of his sexts to Sanchez and "erotic selfies -- including one steamy picture too explicit to print."
According to the Enquirer, Bezos flew his mistress on his $65 million private jet to exotic locations for romantic vacays. For four months the tabloid tailed the illicit couple traveling in "swanky limos and helicopter rides" to "intimate dinner dates, five-star hotel hideaways, and hidden love nests."
Coincidentally, Lauren Sanchez also revealed she's divorcing.
The two openly partied during Sunday's Golden Globes. "After a long period of loving exploration and trial separation, we have decided to divorce and continue our shared lives as friends," the couple said in the statement.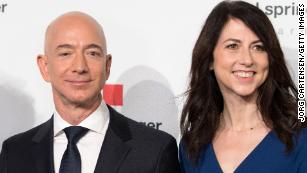 Jeff and MacKenzie Bezos attend an event on April 24, 2018 in Berlin, Germany
"We feel incredibly lucky to have found each other and deeply grateful for every one of the years we have been married to each other," the statement continued. "If we had known we would separate after 25 years, we would do it all again."
Bezos, 54, and MacKenzie, 48, met and got married while working at D.E. Shaw, a New York-based hedge fund, in the early 90s. Shortly after, they packed up and moved across the country to Seattle, where Bezos launched Amazon.
Bezos is now the world's richest person, with an estimated net worth of $137 billion, according to the Bloomberg Billionaires Index. That means this divorce could end up being very costly.
MacKenzie is an author of multiple novels, including Traps and The Testing of Luther Albright.

Chad & Leslye
Chad & Leslye on Magic 107.7!