Here's Where You Can Find Free Cookies Today! Free Cookies for National Cookie Day
Insomnia CookiesThe deal: Stop it at your local Insomnia outpost and they'll hand you a free cookie. It's that simple. But, if for some reason you can't make it for National Cookie Day, the chain is also offering one free cookie with any purchase or online order December 5-6 and 20% off all online orders for the whole week.When: December 4; December 5-6; through December 10
Great American CookiesThe deal: Walk into any GAC location across the US and you'll receive one free original chocolate chip cookie. No need to buy anything. Just show up and, you know, ask nicely. When: December 4
Hot Box CookiesThe deal: Like or retweet this tweet from the chain and you'll earn yourself a free cookie. Be honest, you've retweeted something like this for less. When: December 4
Mrs. FieldsThe deal: This beloved shopping mall cookie purveyor is handing out a free cookie with any purchase.When: December 4
DoubleTree by HiltonThe deal: For the third year, this hotel chain giving out free DoubleTree cookies on National Cookie Day. All you have to do is stop by your nearest DoubleTree hotel and they'll treat you to a warm, complimentary cookie. That's it. You don't even have to be a hotel guest. When: December 4
Potbelly Sandwich ShopThe deal: All first-time Potbelly Perks mobile app users who download the app and signup for an account get a free cookie. Perks indeed.When: Ongoing
Nestle Toll House CafeThe deal: Buy three classic cookies, get three free. Sure, you have to spend money on this one, but you're paying for convenience. Where else are you going to make one stop and get three cookies for free?When: December 4
Schlotzsky'sThe deal: If you're short on time, you can score a free cookie with your regularly scheduled lunch. Buy any regular entree -- sandwich, salad, pizza, flatbread, or tin -- and you'll get a small cookie for free. When: December 4
CoolhausThe deal: You get a free cookie with any purchase.When: December 4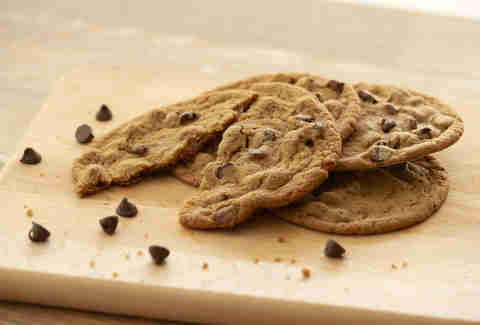 Courtesy of Goodcents
Cookie Deals for National Cookie Day
Cheryl's CookiesThe deal: Cheryl's is taking 50% off of holiday cookie boxes filled with 48 assorted cookies at its retail locations. Meanwhile, you can get 30% off all Holiday Towers when shopping online. When: December 3-7; online deal ends December 5
GoodcentsThe deal: This sub sandwich chain with 75 locations across the country is teaming up with Children's Mercy, a Kansas City-based children's hospital, to make a difference this National Cookie Day. They're offering a $25 card that gets you "free cookies for a year," with all of the proceeds going to Children's Mercy. When: December 4
Sign up here for our daily Thrillist email and subscribe here for our YouTube channel to get your fix of the best in food/drink/fun.
Tony Merevick is Senior News Editor at Thrillist and made some pretty damn good cookies last weekend. Send news tips to news@thrillist.com and follow him on Twitter@tonymerevick.
Our best stories, delivered daily
The best decision you'll make all day.
GO
I confirm I am at least 21 years old

Chad & Leslye
Chad & Leslye on Magic 107.7!