Who Is Behind The British media already turning on Duchess Meghan? Who Is Behind The British media already turning on Duchess Meghan?
It is barely six months since the wedding of Prince Harry and Meghan Markle was feted by the British press as a modern, progressive fairy tale.
But now, certain corners of that same British press are turning against them -- or, more specifically, the bride.
For the last few weeks, the Duchess of Sussex has been the subject of hostile briefings by so-called "royal insiders," "courtiers" and "family friends," who portray her as a demanding bridezilla in the run-up to the wedding and a difficult boss who snaps at her staff.
An assistant has left amid reports of barrages of emails and phone calls at 5 a.m., while Harry is reported to have loudly told courtiers before the wedding, "What Meghan wants, Meghan gets."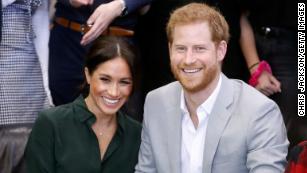 Harry and Meghan to move to Windsor ahead of arrival of first child
We are told that the Queen was displeased about the bride-to-be's request for an emerald tiara and, in the latest story, that Meghan left her future sister-in-law, Kate, in tears at the fitting for Princess Charlotte's bridesmaid dress.
Whatever the truth in any of these reports -- and there are always at least two sides to any story -- a troubling narrative is developing about the new Duchess of Sussex that seems designed to put her firmly in her place.
There is an apparent effort to "other" her -- perhaps due to her being American but also, in a more insidious way, over her biracial heritage. After all, how dare this successful, independent-minded, forthright woman have opinions on how she wants her wedding to be? How dare a woman who has worked hard at her career before she joined the royal family continue to send emails now she is on the inside?
It has long been the case that young royals -- particularly those who marry into the family -- simply cannot win. Take a laid-back approach to royal life, and you are accused of being lazy. But if you dare approach signing up to what must be an overwhelmingly rigid and traditional family firm with enthusiasm and gusto, as Meghan apparently has, you are attacked for being pushy and demanding.
The Duchess of Sussex is not the first new royal to be criticized by the tabloid press for, in their eyes, not getting it right: Her husband's late mother, Diana, was both adored and pilloried by newspapers; her sister-in-law, Sarah, Duchess of York, is to this day portrayed as apparently not quite fitting in.
Before her engagement to Prince William, Kate Middleton and her family were always too middle-class, rather than aristocratic, for those "courtiers" who briefed the newspapers.

Chad & Leslye
Chad & Leslye on Magic 107.7!