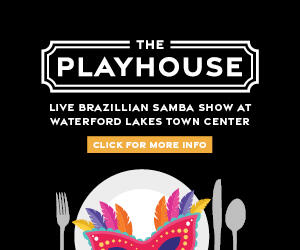 Click here to purchase your tickets!
Sat, October 17, 2020
5:00 PM – 6:00 PM EDT
Waterford Lakes Town Center is proud to introduce a new event series titled "The Playhouse". This series will consist of three different themed live shows that include a food component.
Spirit of Samba Show- Energy, Passion, and Filled with Colors! On this night you will experience a taste of Brazil outdoors under an event tent. You are invited to learn about Brazil's vibrant culture through its traditional music by a live Brazilian band, acrobatics, and dance from its various regions. During this show see talented performers in exotic, colorful costumes dance: the Carimbo, lambada , Axe-Bahia, Brazilian funk , maculelê, Gafieira-Bossa Nova, and the famous dance preformed by the Broadway Actress Carmem Miranda - the"Brazilian Bombshell." You will also see the expressive Brazilian Martial Art "Capoeira" and for the grand finale celebrate the World Famous Party - Carnival ! And that is the real Spirit of Samba!