The REAL Story Behind #IceBucketChallenge
Despite Pete Frates' imposing physical presence during the height of his baseball career, his voice is the attribute that friends and teammates remember most vividly. It was a youthful, full-throated voice of boundless exuberance, bravado and unadulterated joy.
"Pete was the leader of the outfield," said former Lexington Blue Sox teammate Steve Gath with a broad smile. "You could always hear him. He had a voice that really carried."
Today, Frates, 29, the former Boston College baseball star and inspiration behind the viral ALS Ice Bucket Challenge, has lost his voice to the ravages of amyotrophic lateral sclerosis. But thanks to the power of social media, Frates now has thousands of voices speaking on his behalf. Each ALS Ice Bucket Challenge video posted to Facebook, YouTube, Twitter or dozens of other websites brings another voice to the cause, continually raising awareness of this devastating disease.
[+] Enlarge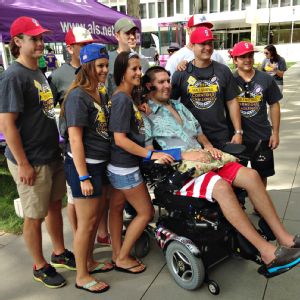 Brion O'ConnorPete Frates was surrounded by friends and supporters at an ALS fundraiser in Cambridge on Saturday.
That groundswell of support has been staggering.
"As a jock and locker-room guy, Pete lived by the code, 'Go big or go home,'" said his father, John Frates. "But when the videos started jumping out of the immediate circle of family and friends, to pro athletes like the Bruins, Patriots and his high-profile BC classmates -- Matt Ryan of the Atlanta Falcons and Brian Boyle of the Tampa Bay Lightning -- it started to get crazy. The sheer power of association and calling out three or more to accept the challenge, it was the perfect formula to go viral."
According to the ALS Association, in the two-week span -- July 29 to Aug. 14 -- after the Ice Bucket Challenge began, almost 146,000 new donors have come on board. During that time frame, $7.6 million was donated to the ALS Association's various chapters, compared with $1.4 million during the same period in 2013. The national office was particularly flush, receiving $5.5 million of those donations, compared with $32,000 in the same period last year.