Sheriff Thanks Suspect for Help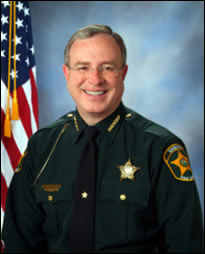 Polk County Sheriff Grady Judd has a message for any wanted person in his jurisdiction: "Please feel free to use social media to advertise your location."
According to the Polk County Sheriff's Office, an 18-year-old local woman with outstanding warrants was nabbed thanks to her use of social media.
Investigators say Markesha Wilkerson was arrested this week after she had gone on Facebook Live while at a Chuck E. Cheese in Lakeland.
Wilkerson had been wanted for a probation violation and failure to appear.
Sheriff Judd said his office really appreciates it when suspects go the extra mile to make sure they get caught.
He enthusiastically recommended that any and every suspect in his area do all they can to follow Ms. Wilkerson's example.
"We highly recommend that, when we're out looking for you, that you immediately post all the information that you can on Facebook, Instagram ... tweet it out, however you want," he said. "Because that helps us."
The Polk County Sheriff's Office says Wilkerson also has 14 previous charges, with at least six of them being violent.
Judd observed that it wasn't just the "bad guys" parading their antics on social media which had changed things for law enforcement.
Judd noted that people interested in helping others had turned into a vital, positive force.
"We know this: that witnesses and interested people who want to help us solve crime will get on Facebook," he said.